Bio-Deconamination Services
BioDecon, a division of Magic Carpet Cleaning & Restoration, is a professional and certified crime scene clean up company who understands the whole process from beginning to end.
Our Decon Tech's have been thoroughly educated and tested for certification qualification. They have also been educated on what to do should they discover new evidence during the clean up process to preserve the scene.
Our technicians are OSHA compliant and have taken the Amdecon 29 CTS Decon Specialist Course.
For a complete overview of our BioDecon Services, please visit our BioDecon site.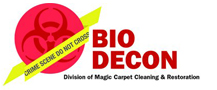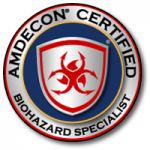 BioDecon Services
Homicide (Murder) And Other Violent Crime Cleanup
Suicide & Suicide Attempts Cleanup
Unattended Death Cleanup
Automobile/Vehicle Cleanup
Accident & Injuries Cleanup
Hoarding/ Distressed Properties / Filth Cleaning
Here is a guide to what you can expect
Prompt telephone response 24 hours a day, 7 days a week, including holidays.
We consult the nature of the call.
A supervisor is sent to the scene to properly assess, and provide you with a detailed explanation of services required to properly restore the property.
All work is documented and photographed, upon request, to assist the insurance companies in expediting your claim.
All bio-hazards are properly disposed.
All chemicals and processes we use are environmentally safe, which allow you to return to the property within the shortest possible time.
We guarantee satisfaction of our work.